Donetsk, Dec 9 – DAN. DPR intelligence spotted military instructors and mercenaries from Canada, Poland, Hungary and Slovakia in Kiev-controlled territory, DPR Operations Command deputy commander Colonel Eduard Basurin told a news briefing at the Donetsk News Agency on Friday.
"I would like to point out the increased activity of foreign military instructors and mercenaries in Ukraine's territory. Over the week we spotted military from Canada, Poland, Hungary and Slovakia."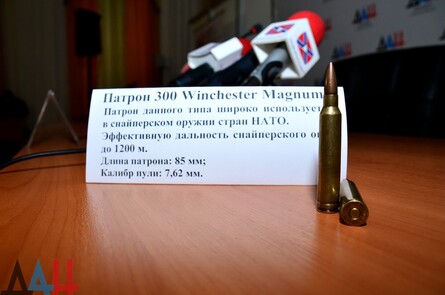 He showed journalists a Magnum Winchester cartridge of the kind that, Basurin said, is manufactured in NATO countries.
Supposedly the cartridge belonged to a Canadian citizen who arrived to Donbass for a 'safari'. Earlier reports said a Canadian fighter had been killed in a clash with DPR militiamen in vicinity of Vodyanoye.
"Ukrainian gunmen organized a 'safari' in the ATO zone. Via social networks they call foreigners to join the hunt for separatists," Basurin explained. *ot