Donetsk, Dec 22 – DAN. DPR Head Alexander Zakharchenko has awarded posthumously the Order of the Republic to the head of Yasinovataya regional energy company Pavel Gritsienko, handing the order and the decree to his seven-year-old son.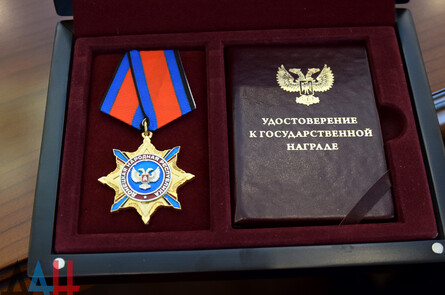 "Your profession is one of the most peaceful, but unfortunately the war is going on and you are on the frontline. I thank you – Gritsienko family – a lot, as a person who sacrificed his life to fulfill his duty is a hero indeed. This is one of the highest awards of the Republic. We bow to you and wish you all the best. Remember that the life goes on," Zakharchenko said.
The father and mother of Gritsienko took part in the ceremony, along with deputy chairman of the Council of Ministers, the minister of revenues and taxes Alexander Timofeyev, the minister of coal and energy Eduard Golenko, and senior staff and employees of energy companies.
Pavel Gritsienko was the head of Yasinovataya regional power supply company. He was killed on October 4, 2017 while inspecting a power line damaged by Kiev's shelling. He had 13 years of experience in energy sector and participated in repair works in Donbass from the very beginning of military action. He is survived by two underage sons. *ot