Donetsk, Feb 20 - DAN. Visiting EU public activists and politicians said they would raise the issue of rehabilitation in Germany and Norway of children who suffered from Ukraine's aggression against Donbass.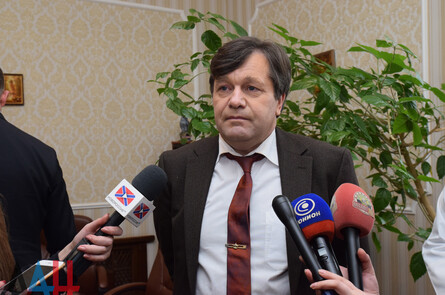 "We arranged for rehabilitation of children hurt in the Chernobyl nuclear disaster. The programme is still ongoing," Maurer said. "I believe we'll find organisations willing to take up the matter."
"Just now we need to work out a blueprint to implement the project," he said answering the Donetsk News Agency question concerning the possibility of DPR children's rehabilitation abroad.
He said it was planned to involve Russia in project implementation "Regrettably, we cannot provide for direct transportation of children; we'll require the assistance of the Russian Federation," the politician added.
Earlier on Tuesday, the foreign guests visited Donetsk's Republican Traumatology Centre and discussed cooperation in health care. They considered a visit by German medics to DPR for sharing experience and helping deliver modern medical equipment.
Russian, German and Norwegian public activists and politicians arrived in the Donetsk People's Republic on 18 February. On 19 February, they met with DPR Head Alexander Zakharchenko and laid flowers at the Memorial to Chernobyl victims.*jk