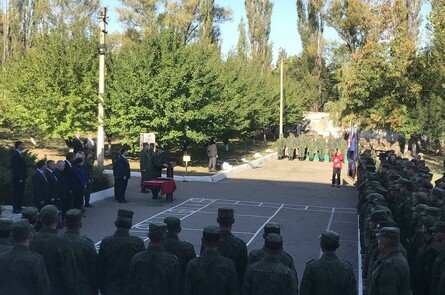 The event was attended by delegations from three countries, Interim DPR Head Denis Pushilin, chief-of-staff of the DPR People's Militia Denis Sinenkov, his deputy Eduard Basurin, Zakharchenko's widow Natalia Zakharchenko, South Ossetia president Anatoly Bibilov, Russian MP Kazbek Taisaev, representatives of Abkhazia.
Pushilin told the brigade, successor of the legendary Oplot, that the Republic is capable of building its future thanks to its defenders, in particular the soldiers of the 5th brigade who carry out combat tasks in the most difficult frontline zones.
"I am sure you shall bear the name of Alexander Zakharchenko with honor. He was the man who changed history by his actions. This is an example to be followed by you and future generations of the soldiers of the brigade."
Some service members have been awarded medals for achievements in combat and certificates of merit signed by the Interim Head.
Alexander Zakharchenko was fatally wounded in an explosion in the Separ restaurant in the center of Donetsk on August 31, 2018.*ot