Donetsk, Oct 2 – DAN. International observers have not registered any violations in the first hours of the DPR primaries, said observer from Finland Johan Backman.
"We haven't registered any violations, neither me nor my colleagues," he said at a briefing.
He reminded that today's voting process is monitored by more than 20 international observers.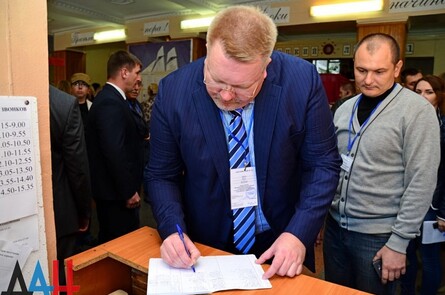 "I'm sure my colleagues agree that you and your democratic processes give us hope, as today we, in the West, have a lot of issues with democracy and freedom of speech. I think this is an important step from DPR international recognition perspective," he added.
IVC press officer Oleg Balykin informed at today's briefing that more than 124 thousand voters have cast ballots by noon. The voting hours are 8 a.m until 8 p.m. A record of more than one thousand candidates are vying for the seats in local authorities bodies. Five of them are running for Donetsk mayor, 141 – for city council, and the rest for local offices.
Some six hundred thousand ballots issued by Interim Vote Commission (IVC) have been distributed to local commissions in all districts of Donetsk and suburban towns and villages including Aleksandrovka, Andreyevka, Yelenovka, Larino, Lyubovka, Staromikhailovka and Mospino. The vote is monitored by over a thousand observers.
The primaries, that are preliminary in nature, are aimed solely at exploring public opinion. They are held before anticipated local elections in Donbass in compliance with Minsk Agreements. The vote is being organized in line with OSCE standards.