Donetsk, Jan 12 – DAN. U.S. trombone player Nicholas Conn will perform a concerto with the Donetsk State Philharmonic Society on 28 January.
"U.S. trombonist Nicholas Conn will perform Ferdinand David's and Derek Bourgeois' pieces for the first time in Donbass," Philharmonic Society director general Aleksandr Paretskiy told Donetsk News Agency.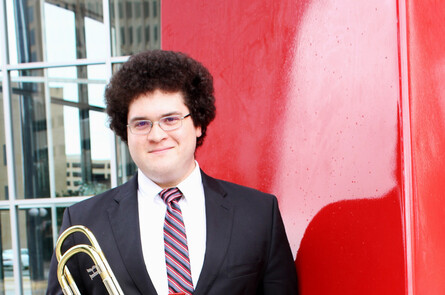 Earlier reports said British, French and Greek musicians would perform at the city's Philharmonic Society in the first half of 2017.
In the previous 84th orchestral season, two famous pianists performed at the Donetsk Philharmonic Society, Valentina Lisitsa (USA) and Peter Seivewright (GB). Lisitsa performed concertos as part of the Prokofiev Spring festival. Seivewright's performance closed the season. Last November, Donbass was visited by celebrated Russian pianist Nikolai Luganskiy who performed Russian classical music at Donbass Opera.*jk