Donetsk, Mar 27 - DAN. The Ukrainian People's Tribunal for investigating the Poroshenko regime's war crimes against Ukrainian citizens accepted on Tuesday video files for review as hard evidence. The videos were taken by residents of Donetsk, Lugansk and Kirovskoye immediately after these settlements were shelled in the summer of 2014.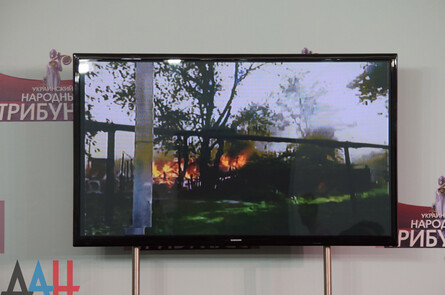 The big screen at the UPT session displayed amateur footage of the shelling of the Lugansk regional administration building, school No 101 in Donetsk's Petrovskiy district and the Kirovskoye town. The videos contain shocking images.
"I believe that these videos show Kiev authorities' crimes against Ukrainian citizens," UPT prosecutor Sergey Kozhemyakin said. The presented video files prove that the Poroshenko regime deliberately used the armed forces against Donbass civilians.
Earlier on Tuesday, hearings resumed in Donetsk over the Poroshenko regime's war crimes. The UPT began to work on March 26. It brought charges against eight Poroshenko regime officials at its first session: the Ukrainian president, Interior Minister Arsen Avakov, National Security and Defence Council Secretary Alexander Turchinov, Prime Minister Vladimir Groisman, Chief of the General Staff Viktor Muzhenko, Defence Minister Stepan Poltorak, parliament speaker Andrey Parubiy and former Prime Minister Arseniy Yatsenyuk.
Facts of the use of Ukrainian armed forces against civilians were presented in the course of the first UPT hearing. The Tribunal reviewed evidence against the Poroshenko regime presented by residents of Donetsk, Makeyevka, Kirovskoye and Lugansk. The UPT set up by the initiative group of Ukrainian citizens living in Donetsk and Lugansk, will review cases in accordance with the Ukrainian legislation and norms of international law.*jk