Donetsk, Apr 16 – DAN. The Ukrainian People's Tribunal for Poroshenko's regime war crimes against Ukrainian citizens (UPT) has begun hearing cases concerning the war propaganda, DAN correspondent reports.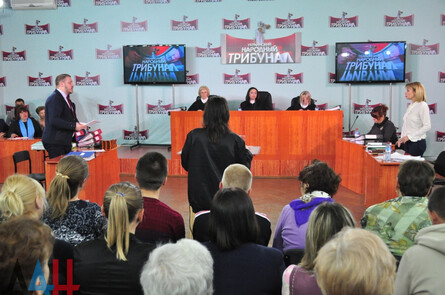 The UPT chairwoman Elena Shishkina, judges Lyubov Batyashova and Tatyana Kravchenko, the prosecutor Sergey Kozhemyakin, defense lawyer Elena Gridina are present at the hearing.
On April 3, the UPT heared cases concerning tortures, robberies and lootings, 14 witnesses and victims were heard.
Earlier, the Tribunal reviewed charges brought up against Poroshenko's regime concerning using armed forces against civilians and establishment of the illegal armed groups.
The UPT divided the cases under its jurisdiction into blocks: using armed forces against civilians, tortures, blockade, formation of illegal armed groups, genocide and others.
The UPT has brought up charges against eight Poroshenko's regime officials at its first session on March 26. Ukraine's president Petr Poroshenko, the minister of internal affairs Arsen Avakov, secretary of the national security and defense council of Ukraine Aleksandr Turchynov, prime minister Vladimir Groisman, commander-in-chief of the armed forces of Ukraine Viktor Muzhenko, defense minister Stepan Poltorak, chairman of the Verkhovnaya Rada Andrey Parubiy, ex-prime-minster Arseniy Yatsenyuk were charged.
The cases will be tried and files reviewed in accordance with the Ukrainian legislation and international law.*ot