Donetsk, Apr 17 - DAN. Journalist Svetlana Molchan testified at the Tuesday session of the Ukrainian People's Tribunal for investigating Poroshenko regime's crimes against Ukrainian citizens. Molchan said that the incumbent Kiev authorities engaged in war propaganda and set obstacles to journalists.
"I'm a journalist of the Slavyanoserbskiye Vesti, a socio-political newspaper whose print run amounted to 7,000 before 2014 while now it's down to 2,500," she said. "Our district has been shelled up to date. On the first days of fighting, Ukraine scaled down the operation of our editorial office to the minimum."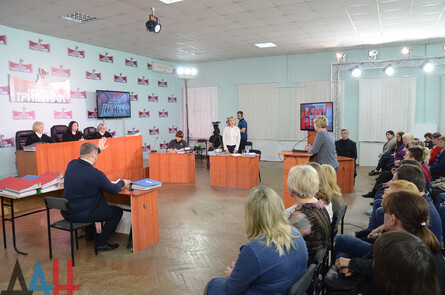 She explained that the subscription plan under which the newspaper had been distributed, was terminated when the Poroshenko regime unleashed the Donbass fighting. The
Slavyanoserbskiye Vesti
's bank accounts were blocked in the summer of 2014 and the funding stopped.
"The unceasing strikes delivered up to date prevent our full-fledged work. Sometimes we had to stay overnight wherever we could: at the editorial office or at a cellar. Isn't it an obstacle to work?" the witness said.
The mass media controlled by the Poroshenko regime keep propagating war and ethnic hate and excusing the acts of military aggression against Donbass civilians.
"The military events which are taking place here are supported by mendacious materials of our "colleagues." Ukraine has censorship and the journalists who try to present unbiased coverage and hear both sides are subject to harsh criticism and pressure," the witness said.
On Monday, the UPT began to review the fourth batch of charges concerning war propaganda. The Tuesday hearing is a follow-up of the review.
Under Article 436 of Ukraine's Criminal Code, war propaganda is punished by up to three years in prison. Earlier, the UPT reviewed the charges of the use of armed forces against civilians, the setting up of illegal armed formations, and tortures, lootings and robberies.
The Tribunal brought charges against eight Poroshenko regime officials: Ukrainian president Petr Poroshenko, Interior Minister Arsen Avakov, National Security and Defence Council Secretary Alexander Turchinov, Prime Minister Vladimir Groisman, Chief of the General Staff Viktor Muzhenko, Defence Minister Stepan Poltorak, parliament speaker Andrey Parubiy and former Prime Minister Arseniy Yatsenyuk.
The UPT set up by the initiative group of Ukrainian citizens living in Donetsk and Lugansk is reviewing cases in accordance with the Ukrainian legislation and norms of international law.*jk