Donetsk, Mar 27 - DAN. A Lugansk region resident whose daughter and granddaughter were killed in shelling by Ukrainian forces, testified against Poroshenko regime officials at a session of the Ukrainian People's Tribunal in Donetsk on Tuesday.
"On January 21, 2015, my sister and my daughter were walking my grand-daughter to the kindergarten. A shell exploded when they were about 50 metres away from the house. I rushed outside and ran after them," Stakhanov resident Elena Myagkikh said. "My daughter and my four-year-old grand-daughter were killed on the spot. My sister died six months later from heart failure; the first heart attack occurred during the shelling."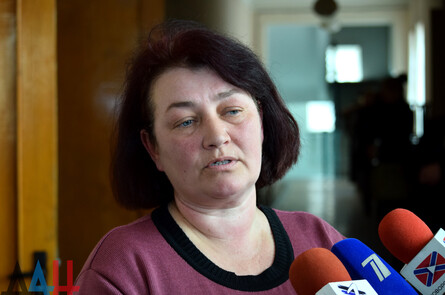 Earlier on Tuesday, hearings resumed in Donetsk over the Poroshenko regime's war crimes. The UPT began to work on March 26. It brought charges against eight Poroshenko regime officials, including the Ukrainian president, Interior Minister Arsen Avakov, National Security and Defence Council Secretary Alexander Turchinov, Prime Minister Vladimir Groisman, Chief of the General Staff Viktor Muzhenko, Defence Minister Stepan Poltorak, parliament speaker Andrey Parubiy and former Prime Minister Arseniy Yatsenyuk.
Facts of the use of Ukrainian armed forces against civilians were presented in the course of the first UPT hearing. The Tribunal reviewed evidence against the Poroshenko regime presented by residents of Donetsk, Makeyevka, Kirovskoye and Lugansk.
The Initiative Group of the People's Tribunal for Ukrainian authorities' crimes in Donbass held a constitutive meeting in Donetsk on March 20. It approved the Tribunal's Charter and staff members, and announced the launching of the official website.
On March 15, the Initiative Group of Ukrainian citizens living in Donetsk and Lugansk announced the establishment of the People's Tribunal for Ukrainian authorities war crimes in Donbass. The cases will be reviewed in accordance with the Ukrainian legislation and norms of international law.*jk