Donetsk, Jul 3 - DAN. The Ukrainian People's Tribunal for investigating the Poroshenko regime's war crimes against Ukrainian citizens (UPT) summed up the results of its work; eighteen people have been convicted. The name of the suspects whose cases were reviewed in camera have been disclosed.
"The UPT has held more than 40 sessions overall (open to the public and in camera - eds DAN))," presiding judge Elena Shishkina said at the Donetsk News Agency on Tuesday. "The UPT was reviewing the case while strictly adhering to Ukraine's Criminal Procedure Code... The panel of jurors stated that the defendants did not deserve leniency."
Following is the full list of the convicted persons: Interior Minister Arsen Avakov, chairman of the National Council for Television and Radio Broadcasting Yuriy Artemenko, Prime Minister Vladimir Groisman, businessman Igor Kolomoiskiy, Prosecutor General Yuriy Lutsenko, chief of the General Staff Viktor Muzhenko, Novosti Donbassa (Donbass News) website editor-in-chief Alexey Matsuka, former acting Prosecutor General Oleg Makhnitskiy, parliament speaker Andrey Parubiy, Defence Minister Stepan Poltorak, President Petr Poroshenko, former acting Prosecutor General Yuriy Sevruk, former head of the Doentsk regional administration, businessman Sergey Taruta, National Security and Defence Council Secretary Alexander Turchinov, former Prosecutor General Viktor Shokin, former Prosecutor General Vitaliy Yarema, parliament deputy, former Praviy (Right) Sector leader Dmitriy Yarosh and former Prime Minister Arseniy Yatsenyuk.
The UPT meted out prisons terms from three years to life imprisonment with property confiscation.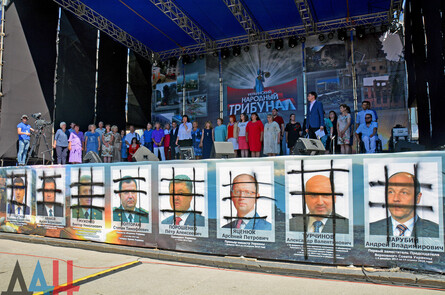 The hearings of the cases against eighth people were open to the public (see the
June 22 DAN report
). The cases against ten other people were tried in camera. The verdict was announced on July 2. The convicts are two business tycoons, senior prosecutors, the leader of the ultranationalist Praviy (Right) Sector banned in the Donetsk People's Republic and Russia, and two mass media representatives.
The UPT was set up by the professional Ukrainian lawyers living in Donetsk and Lugansk. In the course of the hearings held from March 2018 in Donetsk, the criminal case against Poroshenko and his associates was reviewed on the basis of Ukrainian legislation and in accordance with the norms of international law. As the defendants, accused of very serious crimes, did not provide for their defence, the People's Tribunal appointed Ukrainian lawyer Yelena Gridina as their defence attorney.
The texts of the verdicts were sent to the convicted persons. The UPT's rulings will be enforced by the Ukrainian judicial system and international courts. *jk