Donetsk, Aug 30 – DAN. One of the largest DPR zoos, Pridorozhnoye township Nature Park, Starobeshevskiy district, has welcomed its new inhabitant, a 1.5 months old lion cub Leonardo.
The zoo director Gennadiy Kryazhev said that he had brought the cub two weeks ago.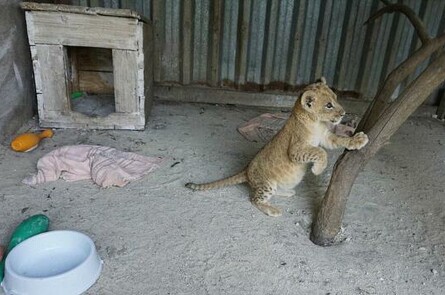 The staff currently feeds the lion with chicken fillet and goat milk and the zoo visitors are prohibited to feed the cub at all as it can damage his health.
Kryazhev says he plans to bring a lioness to the zoo.
Pridorozhnoye township Nature Park was established more than 20 years ago and houses 20,000 birds, animals, reptiles, insects and fish in its two ha territory. It is one of the largest DPR zoos, exceeded only by Dokuchaevsk park.
In August-September 2014 Pridorozhnoye Nature Park had been continuously shelled by Kiev forces; fortunately, all its inhabitants managed to survive thanks to the staff efforts.
Today 16 people work in the zoo.
Accessibility and Prices:
The Park is located on Lenina street 38, Pridorozhnoye. Working hours: 8 a.m. – 9 p.m. Children under 3 years are admitted free of charge; children under 10 years have a 50pc discount while the adult ticket is 100 RUR.