Donetsk, Feb 6 – DAN. DPR head Alexander Zakharchenko visited DPR frontline defense positions, his press service said.
"Alexander Zakharchenko paid an inspection visit to one of the hotspots - Volvo Center outside Donetsk, one of the probable targets of Ukrainian armed forces and nationalistic squads. Zakharchenko talked to servicemen and discussed the current escalation along the contact line. He checked how the ceasefire was adhered to."
The visit was paid on February, 5.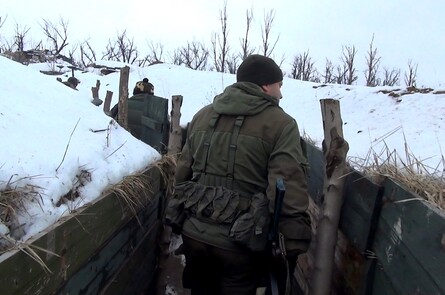 Zakharchenko also visited the market in vicinity of Donetsk railroad station that had sustained massive damage during the recent shelling. He met the locals and discussed the escalation of the situation with them. He provided "material aid from DPR Head's Fund to those whose properties were destroyed in shelling".
Zakharchenko visited injured servicemen in the Republican Trauma Care. They discussed the issue of their further employment.
The situation along the contact line deteriorated in the end of January. Kiev shells DPR territory with MLRS Grad and Uragan and heavy artillery. Civilian and military fatalities were reported, dozens have been injured. Massive damage to housing and infrastructure has been recorded. *ot