Donetsk, Feb 14 – DAN. Donetsk residents on Tuesday morning flocked to central Forged Figurers Park to celebrate Valentine's Day. Donbass Blacksmith Guild activists staged a traditional outdoor show forging iron hearts for lovers.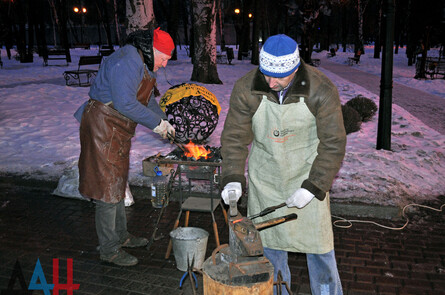 "Today, lovers the world over give each other Valentine's Day cards expressing their affection. Donbass blacksmiths have again presented the hearts they forged with loving care to the romantics who came here at such an early hour," Donbass Blacksmiths Guild chairman Viktor Burduk told Donetsk News Agency.
Donbass blacksmiths decorated the Tree of Happiness with irons hearts free for taking.
"My beloved and I heard about this action more than once, and today we took part in it for the first time. I believe it's a remarkable tradition. Many thanks to the blacksmiths for arranging this holiday," Donetsk resident Leonid Yefanov said.
Donbass Blacksmiths Guild activists stage Valentine's Day shows each year. It is the tenth such show. Before the war, it used to begin at 5:00 a.m ., but then moved to later hours because of the curfew. The blacksmiths did not cancel the celebration even despite active hostilities.
Valentine's Day is marked annually all over the world on 14 February. It emerged in Western Christian tradition, and is now viewed as a time to show love, affection and romantic feelings. It is customary to give lovers heart-shaped Valentine's Day cards. *jk