Donetsk, Sep 19 - DAN. Ukrainian army has violated the ceasefire more than 38,000 times since the signing of the Minsk Protocol on 5 September 2014, DPR Operations Command deputy commander Eduard Basurin said on Tuesday.
"We composed statistics clearly showing that violations have not stopped since the signing of the first Minsk accords," Basurin said. "Up to date, 38,393 ceasefire violations by Ukrainian gunmen have been recorded since September 2014."
Relative calm during the designated period was usually observed only in the first days of each ceasefire accord signed with Ukraine in Minsk.
"This happened in February-March and in September 2015, and in September-October 2016 when the number of ceasefire violations decreased by 60 percent on the average, mainly due to Kiev's concern to secure successful negotiations with its western partners. After getting new handouts, the shelling resumed with renewed energy," he said.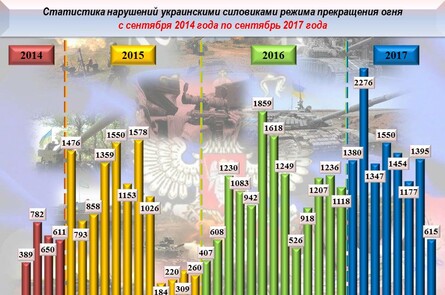 DPR Operations Command prepared graphic representation of the violations committed since the signing of the Minsk Memorandum on 19 September. According to statistics, DPR came under heaviest fire in March 2017 when 2,276 violations were recorded. The least number of violations were recorded in September 2015 (184); the parties signed a supplement to the Package of Measures on withdrawal of heavy weapons in the same month.

The Agreements forged by the Contact Group on 5 and 19 September 2014 and 12 February 2015 in Minsk make groundwork for a peaceful settlement of the Donbass conflict.

The Contact Group set forth a peace plan and agreed a ceasefire, then adopted the Memorandum on ceasefire implementation and later on the Package of Measures for the Implementation of the Minsk Agreements.

It provides for immediate and comprehensive ceasefire in Donbass starting 15 February 2015, withdrawal of heavy weapons, establishment of security zones, discussion of the modalities for the resumption of payment of pensions and allowances to DPR and LPR citizens, and constitutional reform in Ukraine leading to deep decentralisation.*jk