Donetsk, Aug 25 – DAN. A sister city of Donetsk, British Sheffield, has congratulated the DPR Capital with its 150th anniversary, according to a letter of the city Lord Mayor Tony Downing sent to DAN News Agency.
"On behalf of the city of Sheffield we celebrate with Donetsk, 150 years of resilience, development and growth," the letter reads.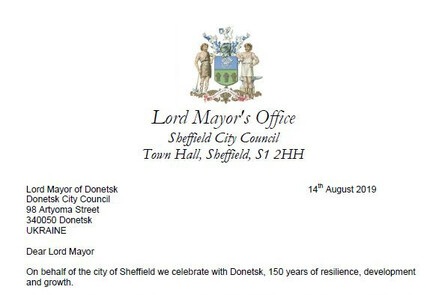 Downing said that now both Sheffield and Donetsk are once again leading the way, in research, development, science, manufacturing and health.
"It has been eventful 150 years for Donetsk and I'm sure everyone there is as proud of their city as we are of ours. I'm sure the next 150 years will be just as eventful and we look forward to seeing and sharing our progress and successes and celebrating these as any sisters would."
Sheffield is a city and metropolitan borough in South Yorkshire, England.
The 'Sheffield International Linking Committee' promotes Sheffield overseas, especially with five sister cities: Chengdu, China; China Anshan, China; Germany Bochum, Germany; Donetsk; Nicaragua Estelí, Nicaragua.
In 1957, then Stalino ( an earlier name of Donetsk), became a sister city of Sheffield which has become the first sister city of Donetsk despite the Cold War. As a symbol of friendship of the two cities, the Sheffield square was opened in Donetsk in 1982.
Donetsk celebrates its City Day on the last Sunday of Auguist.*ot