Donetsk, Apr 5 - DAN. Donetsk People's Republic trade union representatives suggested that the Power of Donbass development strategy should provide for public employees' payrise, the DPR Trade Union Federation press service told the Donetsk News Agency on Thursday.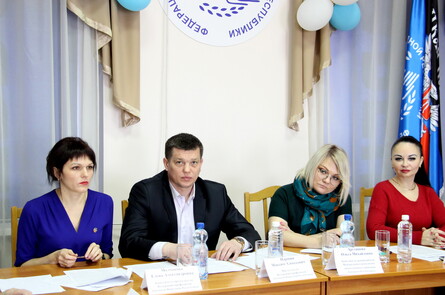 "Today, a round table meeting in Donetsk addressed problems in branches of the economy and life-support sectors as part of the
Power of Donbass
DPR development strategy discussion," the press service said. "After the meeting a proposal was brought forward to raise the wages of budget-funded organisations' employees and review wage grades."
The participants offered to include issues of industry branches, farming and social insurance in the strategy.
At Donetsk Republic's March 1 conference, its chairman, DPR head Alexander Zakharchenko called for drawing a long-term DPR development strategy and its broad public discussion. The project was named the Power of Donbass. DPR development proposals are expected to make the basis of Zakharchenko's election programme.
The Donetsk News Agency website hosts Donetsk Republic's polls which elicit residents' recommendations on the development strategy. *jk