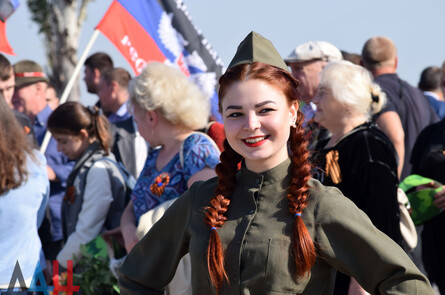 Shakhtyorskiy District, Sep 7 - DAN. Several thousand people rallied in eastern DPR on Thursday at the Saur Mogila Memorial Complex damaged in the Ukrainian offensive, on the eve of the 74th anniversary of Donbass liberation from Nazi troops.

Heads of DPR ministries and departments, People's Council deputies, municipal and district administration officials and activists joined the rally.

"Today is an important event in DPR. This holiday dates back to 1943; we always look forward to it. I wish for the soonest liberation of Donbass so that we salute the victory everybody has been waiting for," acting DPR Culture Minister Mikhail Zheltyakov told Donetsk News Agency.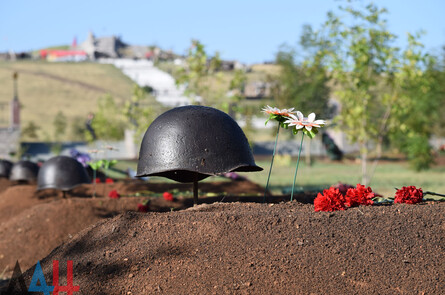 Russian delegations that include museum staff from Moscow, Astrakhan, Surgut and Kursk arrived in DPR to venerate the memory of Donbass liberators. DPR head Alexander Zakharchenko, visitors from the Republic of South Ossetia and American pianist Vatentina Lisitsa are expected to join the rally.

Police, Emergencies Ministry personnel and medics are on hand at the venues of public events. The wind band of the Donetsk State Academic Philharmonic Society is performing.

The Saur Mogila Memorial Complex was unveiled on the hill bearing the same name in 1967. It comprised a 36-meter-high stele and a sculpture of a Soviet soldier. Later on an eternal fire was lit in memory of WWII soldiers killed in fighting for the strategic height.

The memorial complex took heavy damage as a result of 2014 fighting. DPR authorities launched restoration works. The Republic holds special events in the runup to Victory Day and Donbass Liberation Day every year. The Saur Mogila Memorial Complex marks its 50th anniversary this year.*jk