Donetsk, Jun 1 - DAN. A sculpture commemorating Donbass war children was unveiled in Donetsk's Lenin Komsomol Park on Thursday as the Republic marked International Children's Day.
DPR ombudswoman Darya Morozova, Peace to the World project leader Eleonora Fedorenko, Italian journalist and writer Marinella Mondaini, Russian activist Dmitry Melnikov and more than 100 children of different ages groups took part in the event. The children held DPR flag balloons in their hands.
"Dear children, I wish you a clear, blue and peaceful sky on this holiday," said Morozova as she addressed the youths. "I wish that what you have seen, heard and felt over these three years never happens again. Most importantly, don't repeat the mistakes made by adults and learn to respect each other."
Morozova and Mondaini then unveiled the sculpture which had been covered with DPR and Russian Federation flags.
The full-scale realistic style sculptural composition shows two siblings.  The boy, with a worried expression, is looking upward protecting the girl with his body.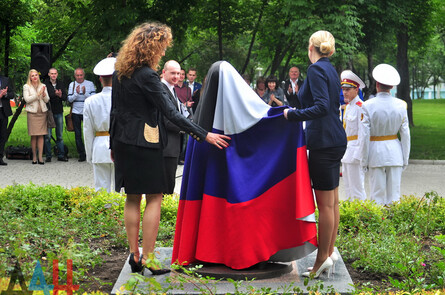 Archpriest Svyatoslav led a prayer by the monument and consecrated it. Next, young DPR vocalists sang songs about peace and childhood.
In an earlier video link with Donetsk schoolchildren, their Moscow peers presented a model of the monument to Donbass Children which they said they would send to DPR. The composition was cast in bronze by Russian sculptor Denis Seleznyov. The idea to create the monument belongs to children of the Russian Federation and European towns.*jk
.