Donetsk, Sep 6 – DAN. A two-month old lioness cub has been acquired by the DPR largest zoo to and will be joining lion cub named Leonardo.
The zoo director Gennadiy Kryazhev said that he had bought the zoo's first lion several weeks ago fulfilling his long-time dream to bring big cats to Pridorozhnoye township Nature Park.
"Recently I've acquired a girl friend for our lion cub Leonardo. He is no longer alone and sad as they get on very well, playing with each other, biting. The lioness still has no name but we are looking for options. She is two month old, a bit older than he, but that is no big deal," he said.
Keeping lions costs 500 rubles per day, as they are currently fed with chicken fillet and goat milk only.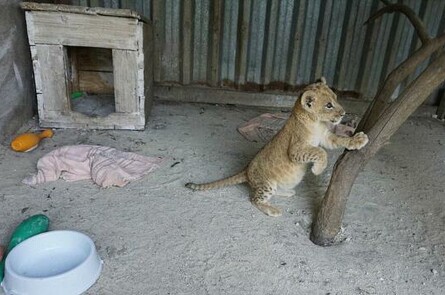 Zoologists hope the two might have their own cubs in two years as a new lion venue is being constructed to house the feline family.

Pridorozhnoye township Nature Park was established more than 20 years ago and houses 20,000 birds, animals, reptiles, insects and fish in its two ha territory. It is one of the largest DPR zoos, exceeded only by Dokuchaevsk park.

In August-September 2014 Pridorozhnoye Nature Park had been continuously shelled by Kiev forces; fortunately, all its inhabitants managed to survive thanks to the staff efforts.

Today 16 people work in the zoo.

Accessibility and Prices:

The Park is located on Lenina street 38, Pridorozhnoye. Working hours: 8 a.m. – 9 p.m. Children under 3 years are admitted free of charge; children under 10 years have a 50pc discount while the adult ticket is 100 RUR.*ot