Donetsk, Jun 12 - DAN. The number of the Donetsk Republic social movement's supporters reached 200,000 as the Republic's Head Alexander Zakharchenko handed in the benchmark membership card in a solemn ceremony on Tuesday.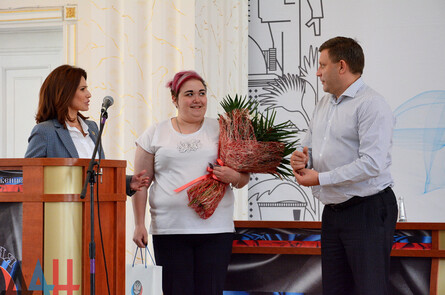 The 200,000th membership card was given to Khartsyzsk activist Anna Gracheva.
In the course of the Tuesday ceremony, the DPR Head commended four Donetsk Republic's Central Executive Committee members for their contribution to the establishment of the social movement and the efforts to arrange Victory Day celebrations.
The Donetsk Republic social movement engages in political and public activities, launches social projects and organises cultural events. It was established in the Donetsk People's Republic in the autumn of 2014. On November 2, 2014, it won 64 seats in the election which made it the largest faction in the DPR parliament.*jk