Donetsk, May 12 – DAN. Kievskiy district of Donetsk city has signed a twin-town agreement with Sudak in Crimea. The ceremony took place at today's Russia-Donbass Integration Committee meeting in Donetsk.
The document was signed by Kievskiy district head Valentin Levchenko and Sudak administration head Vladimir Serov.
"This gives us confidence that we made the right choice several years ago. We will benefit from the agreements, I am sure," said Levchenko.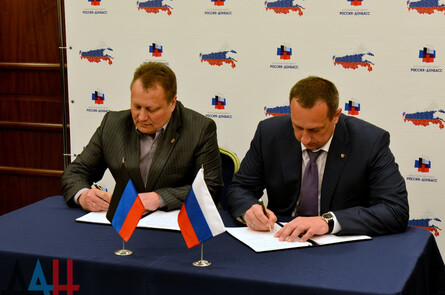 The Integration Committee Russia-Donbass was established in Crimea on March 17 to reinforce the integration that is happening between Donbass and Russia at cultural, humanitarian, social levels. Its meeting took place in Livadia Palace, near Yalta, DPR and LPR leaders were present at the event.
The Committee is expected to hold several meetings in 2017, both in Donbass and Russia. *ot