Donetsk, Mar 9 – DAN. Donpromkabel cable producer became the first Donbass company to be granted the Standart Donbassa quality certificate.
The document was handed to Donpromkabel officials at Donetskstandartmetrologiya state-owned company in the presence of acting DPR Industry and Trade Minister Alexey Granovskiy.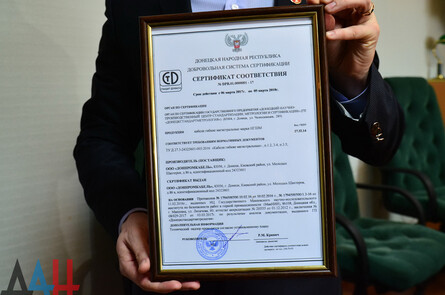 The company henceforth will put quality certification mark on its products.
"We plan to boost output two-fold; additional equipment is now being installed and in the second half of 2017 we'll launch one more shop to produce four new products," Donpromkabel commercial director Maxim Proskurin told Donetsk News Agency.
Another four DPR companies have applied for quality certificate.
On 13 February 2017, DPR Industry and Trade Ministry together with Donetskstandartmetrologiya presented "Standart Donbassa," a voluntary certification system for goods and services, to highlight quality products in the Republic.
Donpromkabel has operated in Donbass market since 1996. It continued operation despite the Ukrainian offensive on Donbass in 2014. In August 2016, the company upgraded its wire-drawing and cable conductor shop. *jk