Donetsk, Jul 21 – DAN. A joint expedition of archeologists from DPR and Kiev-controlled territory to explore the territory of Obryv settlement in Novoazovskiy district discovered fragments of utensils and remnants of animals dated back around 13th-14th centuries AD.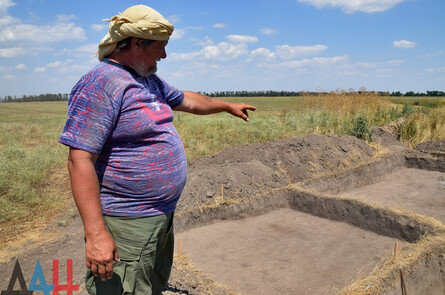 "We reached a layer of 13th-14th centuries AD, the times of the Golden Horde. We found fragments of ceramics, iron objects of various shapes, remnant of animals that lived there, including stabbed bones," a senior research associate of the Donetsk Republican Regional Natural History Museum, head of the expedition Eduard Kravchenko told DAN.
He added that the scientists also found ruins of a rare type building with the walls made of bulrush and clay, though today it looks just like a pile of clay and earth.
According to Kravchenko, the expedition earlier discovered evidence of a 9th-10th century AD settlement.
The group of 12 archeologists set off to the area of Obryv to begin excavation on July 3. The four of the scientists come from Kiev-controlled territories. This round of digging will last till the end of the month. *ot